Kim Alan Granholm - Esko FD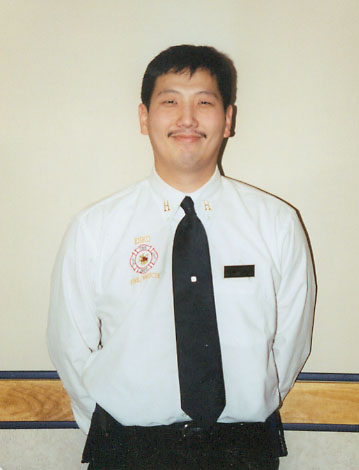 Captain Kim Alan Granholm, age 28, of the Esko Volunteer Fire Department, was struck by a car in a multi-vehicle pileup when it slid onto the shoulder of the interstate, where firefighters were working a car fire. He was transported by helicopter to a Duluth hospital, where he died in surgery.
Kim was going into his fourth year of service at the Esko Volunteer Fire Department. He was an extremely dedicated member. He spent a lot of time at the fire hall with his wife, Aliina, also a member of the department, and their children. Making the rank of Captain in four years shows his level of dedication and how much everybody thought of him. Kim took his responsibilities of being a captain very seriously, as he wanted the best for the department.
Kim was adored by his two daughters, Robyn and Alyssa. He spent every spare minute he had with them. Kim and Aliina were high school sweethearts and had been married for just short of eight years. He was an avid fisherman, enjoyed riding motorcycles and snowmobiles and liked anything to do with computers, whether it was putting them together or playing games. His love of life was never ending.
---
A Department's Darkest Moment
Press Release July 2, 2002 - 1400 PM
On 7-01-2002 at approximately 0722 AM, a tragic event occurred involving Esko Fire Department personnel and an Esko Police Officer. Esko Fire Department responded to a car fire on I-35 about 1 mile north of Esko. While firefighters and emergency personnel were attending to the car fire, an accident occurred where a squad car was hit, along with the car that had been on fire. Three firefighters were struck, including Captain Kim Granholm. Captain Granholm died a short time later at a Duluth hospital.
Injured firefighters were: Les Liimatainen and Scott Prachar.
It is very traumatic for emergency personnel, including firefighters, ambulance workers and law enforcement to receive a call that another officer has been injured. The entire Emergency Services community, along with the entire Esko community is surrering from this loss.
Captain Granholm, age 28, is survived by his wife, who is also an Esko firefighter and two daughters ages 9 and 3. Captain Granholm was a dedicated husband, father and member of the Esko Volunteer Fire Department. Kim dedicated many hours in service to the community and the Fire Department.
Tragedies such as this can be avoided by motorists paying attention to emergency vehicles on the roadways.
Kim will be sadly missed by his family, community and colleagues within the Esko and area Fire Department.
The Esko Fire Department was organized in 1949. This is the first ever Line of Duty death or serious injury to one of it's members.
Funeral arrangements have been finalized for Fire Captain Granholm. The visitation will take place at 1300 PM Friday, July 5th at the Esko High School followed by the Memorial Service at 1600 PM. Esko High School is located at the intersection of Highway 61 and County Road 1 in Esko.
Memorial Fund: Kim Granholm Benefit, Republic Bank, 3 Thomson Road, Esko, MN 55733.
---
Granholm, Kim Alan
Age:
29
Cause of Death:
Struck By/Contact with Object
Rank:
Captain
Nature of Death:
Internal Trauma
Status:
Volunteer
Emergency Duty:
Yes
Incident Date:
07/01/2002
Duty Type:
Fireground Operations
Incident Time:
07:14
Activity Type:
Other
Death Date:
07/01/2002
Fixed Prop. Use:
Street/Road
Fire Dept. Info:
Esko Volunteer Fire Department
P.O. Box 122
Esko, Minnesota 55733
Chief: Jeff Juntunen

Initial Summary:
Captain Granholm was fatally injured while working a vehicle fire with his wife who is also a member of the department. An inattentive driver, who left the scene and was later arrested, triggered the chain-reaction accident by striking from behind several emergency and private vehicles on the right shoulder of Interstate 35 killing Granholm and injuring two other firefighters, an Esko police officer, and two motorists.
View Firehouse.com News Report